Therapy Dog Training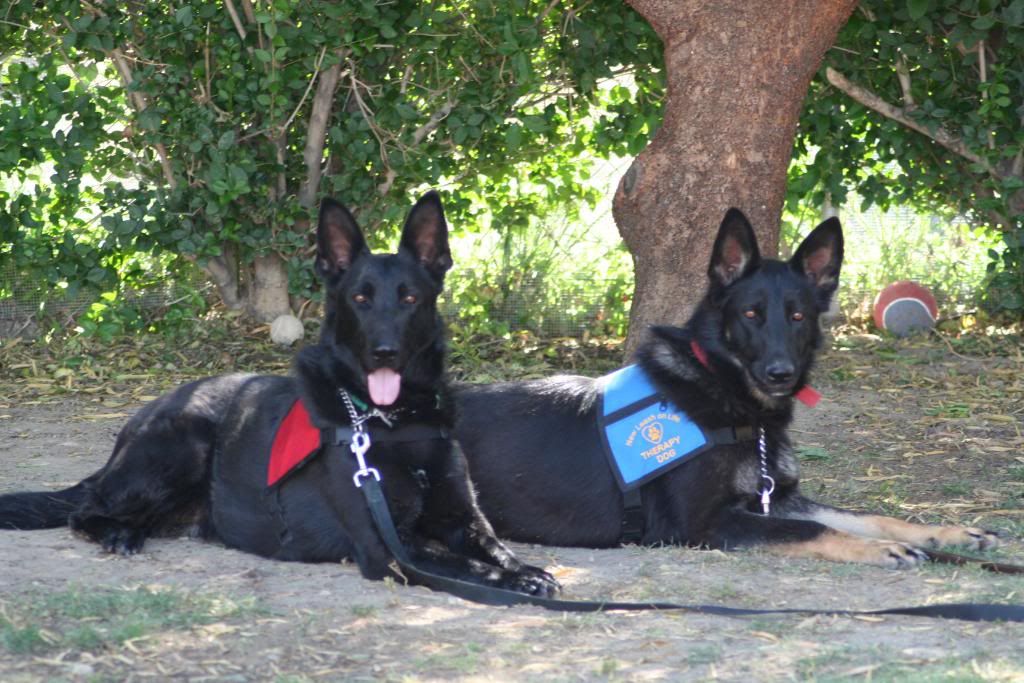 ADOPT A CERTIFIED THERAPY DOG
New Leash On Life offers individuals the unique ability to adopt a Certified Therapy Dog. Our rescue dogs that are selected for therapy work have a comprehensive training and evaluation period. We focus our level of training to create well-mannered, balanced, calm and social companions. We ensure that the dog is comfortable with following directions from any handler. The dogs are taken to various locations throughout the community and "proofed" against real life every day distractions and obstacles. Once LAP dogs have completed all training, they are available for adoption by those in need of a personal Therapy Dog. In addition to the adoption process, adopters are required to attend training and successfully pass the Certification Test.
CERTIFY YOUR DOG AS A THERAPY DOG
You may be able to obtain certification if your dog has the right temperament to be a Therapy dog.
Your dog must have an even temperament and be eager and willing to meet new people. Therapy work cannot be forced on a dog. He or she must look forward to working in public and visiting people.
Your dog must be at least 1 year old, spayed or neutered, and up to date on all vaccinations.
Your dog must be a graduate of obedience training and pass the Certification Test. The test is designed to determine your dog's character and ability to handle stressful situations in both quiet and unpredictable environments. New Leash On Life provides Basic Obedience Training and testing for dogs and handlers.
Handlers (you) are also required to pass this test to determine their ability to interact with a wide variety and volumme of people, to evaluate your dog's comfort level and to be proactive in guiding your dog's behavior in various situations.
JOIN THE LAP TEAM with YOUR THERAPY DOG
To become an active and qualified member of the New Leash On Life LAP program all dogs and handlers must successfully qualify as follows:
Dog must be a graduate of Obedience Training with a Certificate of Completion.
Dog and handler (you) must pass the Lend a Paw Certification Test (see sample below).
Both must attend 2 or more quarterly team meetings per year.
Both must complete 6 hours of supervised volunteer visits to be fully certified and cleared to visit on your own.
Both must complete 6 or more visits per year on the LAP Visitation Tour (see "places we visit").
Annual re-certification is required to maintain an "active" status.
All Lend a Paw certified and registered** dogs and handlers are provided with a Therapy Dog vest, Two ID crads & holder and a Lend a Paw T-shirt. All active and qualified Lend A Paw volunteer handlers are insured under the New Leash On Life Volunteer I & D policy.
| | |
| --- | --- |
| SERVICES | RATES |
| Basic Obedience | Starting at $250.00 |
| Therapy Dog Training* | Starting at $1,900.00 |
| Advanced Training | Starting at $3,500.00 |
| LAP Evaluation / Certification Test | $50.00 |
| LAP Registration Fee** | $100.00 |
*Completion of Basic Obedience is required.
​
LEND A PAW CERTIFICATION Schedule
SAMPLE OF CERTIFICATION TEST
PROCEDURE & INSTRUCTIONS
Please contact The LendAPaw Team for more info. Space is limited.